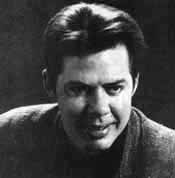 DAVE SIM
Dave Sim is a complicated guy. I'm going to be trying to put together a biography of him for this space, and maybe some more photos. I really wish I had been able to use more of the stuff from my interview with him in the piece that was published, but since it was a newspaper article it had to be very general. Way back in the beginning of Mothers and Daughters he was telling me that the totalitarian spirit was basically maternal - an instinct to make everyone and everything "safe" - and that the reason women seem split down the middle on abortion is that mothers are pro-life and daughters are pro-choice.
None of that made it into the published review, of course, which is more a "get-acquainted with Cerebus" kind of piece. But one of these days, I swear I'll get around to putting a transcript up. In the meantime, here are some Dave Sim links (as opposed to Cerebus links, which are on the Cerebus page):
From the St. Louis Post-Dispatch. Published April 5, 1992.
A collection of Dave's Editorials, including all the ones on self-publishing.
A description of Cerebus and some quotes from the infamous #186 and elsewhere.
Similar to the above, except it appears to contain the entire text portion of #186, plus a link to a "Universal Misogyny Page."

---

Comments? Questions? Drop me a line
This page has had visitors since 09/01/2000
This page was last updated: 09/02/2000


---

The words on this page and others maintained here are © J. Stephen Bolhafner.
Images in this webspace or pages linked here are all © their respective creators
Feel free to add add this page as a link, or to copy any of the links to your own page -- just don't copy the words themselves without my express permission, or I shall be forced to send my lawyer over to beat up your dog.